A Hattiesburg native with an eye for sculpture, Dr. Erik Graham believes that every smile is a work of art ready to be unveiled. After attending dental school at University Medical Center in Jackson, Mississippi, Dr. Graham and his wife Ginny (also a Hattiesburg native) moved back to Hattiesburg and joined Dr. Baker, where they formed Baker & Graham Family Dentistry. "It's amazing having a partner like Dr. Graham. His wife's grandmother was my patient, and she told Dr. Graham about me and my desire to find a good partner and expand the practice," Dr. Baker said of Dr. Graham. "We get along because we are so different. He works at an amazing, meticulous pace and has an encyclopedic knowledge of dentistry. He is so caring with patients, and we complement each other really well."
Ever since he was a child, Dr. Graham has been fascinated by how things work. He loves working with his hands, taking things apart, and putting them back together again. He has always been fascinated by innovation and captivated by the power of technology to improve people's lives. "My goal is to make sure I can offer the best treatment to anyone who comes through the doors. That means investing in and learning the newest, best technology. I'm fascinated by innovation, and I want my patients to experience the benefits of the technology we use here at Baker & Graham," Dr. Graham said.
Dr. Graham believes that the best smiles are artful, authentic, and unique to each person. "I'm not interested in creating a fabricated, synthetic smile. I want my patients' smiles to look like they were meant to be," he said. "We're not like a typical practice. We really get to know our patients and their smiles. We give the best results by using the best materials. We have several options for our patients, from low-cost options to more involved procedures." For Dr. Graham, the challenge of creating those smiles–along with the connection he gets to form with his patients–drive his passion for dentistry, a craft that all too often perceived as boring, conventional, and even scary. "Anybody who needs dental treatment should feel comfortable and confident coming to our practice. Whatever their needs are, we can help them figure out what they need and even how to pay for it."
Outside of the office, Dr. Graham loves spending time with his wife Ginny and his three sons, Gregg, Parker, and Bradley. He coaches their baseball teams and helps coordinate their Boy Scout endeavors. Dr. Graham also enjoys wood carving, furniture building, and the art of sculpture, a passion which he carries into his dental practice, as well. "If I can visualize it in my head, I like to use my hands to make it," Dr. Graham said. "I can see how a patient's smile is intended to look, and I want to help patients realize the beauty and individuality of their smiles."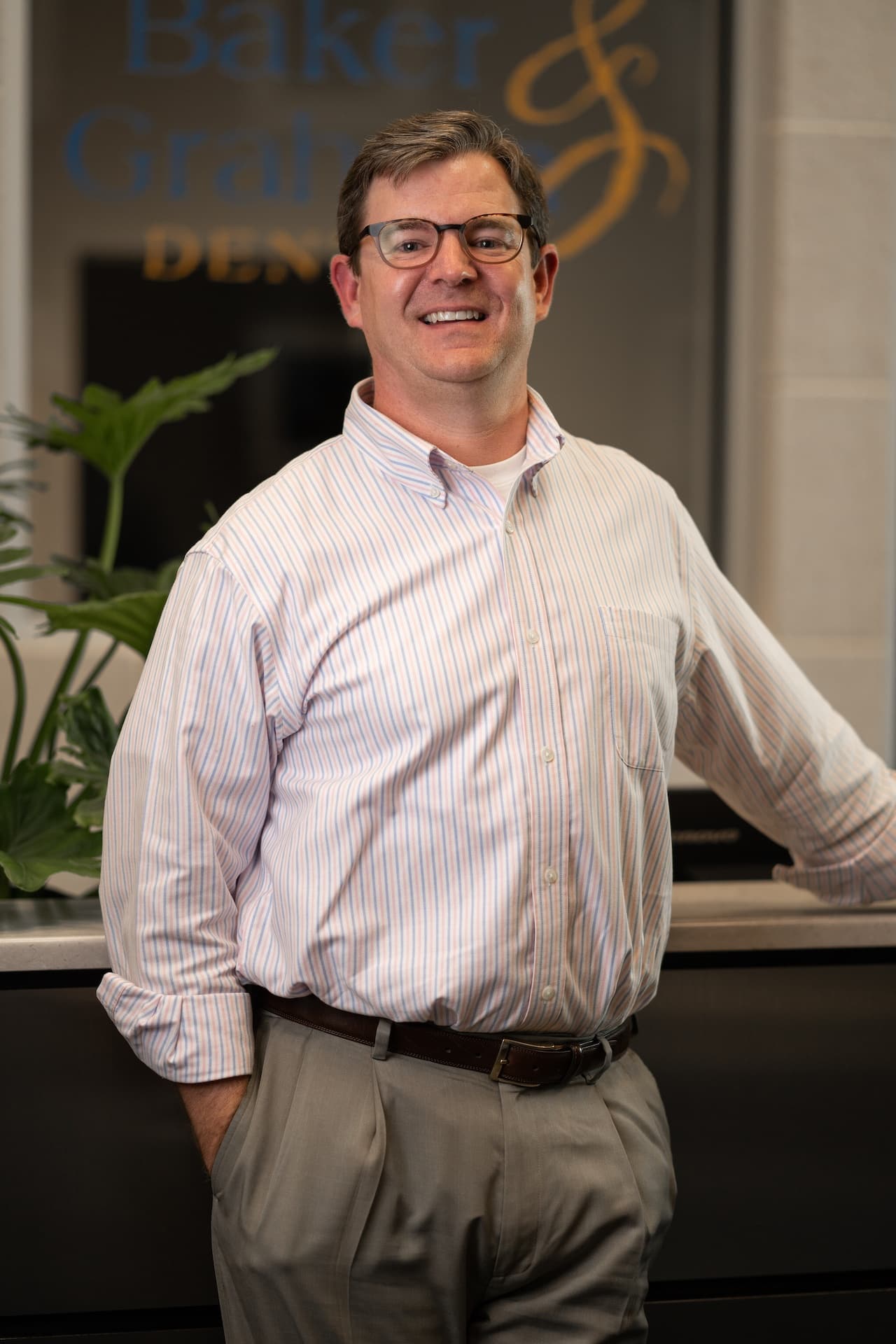 "Dr. Graham and his staff are knowledgeable, concerned, and supportive. All my questions were answered, and they provided information about things I didn't even now to ask. Dental anxiety has always been an issue for me. This is the first practice I've used that addressed that issue as a priority. I was made completely comfortable during the entire office visit. Dr. Graham and his staff are definitely the ones that I will be using going forward!"
– NANCY C.